Maria Tayo:
Senior Paralegal at Stewarts Law Firm, Leeds
It was an honour to be able to host, alongside Nathalie Moussinga, the BHM event to kick off black history month this Tuesday at Stewarts. Martin Pemberton spoke about his experience growing up as a mixed race male and the issues that this raised in terms of his identity. #blackhistorymonth #wheredoyoustand?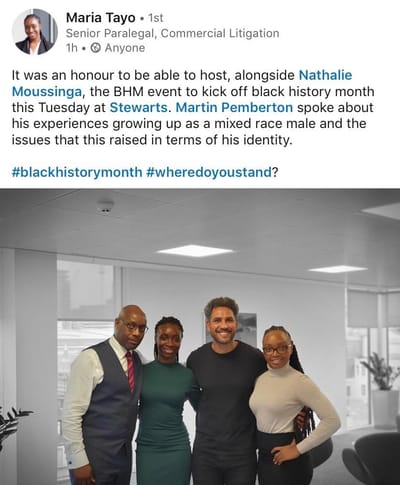 Forviva Housing:
"Honest discussions and relaxed forum to talk" "It was personal, easy to understand and very engaging" "Martin was really good at engaging with all. Easy to relate to" "Martin was very open to discussion around all areas of the training. It was very engaging and enlightening" "Nothing to dislike" "Interactive. It was taught really well. Trainer very open and really knew what he was teaching. Very good trainer"