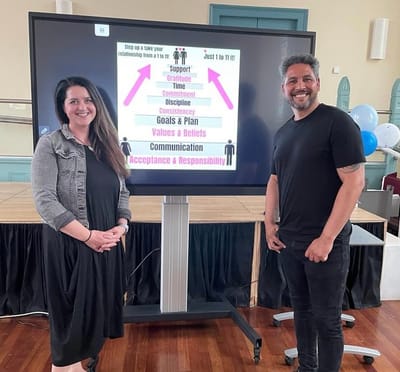 Be Happy at Work Workshops

Part of our work is to get inside businesses and talk to the workforce about the dynamics of relationships within the workplace.

We spend 1/3 of our time at work so it's worth looking into how we can make the most out of it.

Is it the workplaces responsibility to keep their employees happy or at least, not make them unhappy? Is this a reasonable expectation of employers?

Research has found that people are more productive, creative and engaged when they are happy and employers do have a duty of care to make workplaces as healthy as possible where each employee feels supported and appreciated for what they do.

But, the culture of a workplace is also created by the people who work there, not just the management. If each person is happier, the end result is a happier culture within the workplace.

So what can be done to be happier at work?
This is where we come in.

We run workshops, either morning, afternoon or all day where we come in and work with groups of up to 40 people taking them through the 1 to 11 Process.

If each individual learns how to become aware of areas in their lives that they can improve in and how to work alongside others doing the same thing, a harmonious workplace culture can be created.

For more info, book a FREE call today where we would love to hear more about your ideas for creating a workplace culture that is more productive, creative and engaging.